ACROSS THE WORLD, ALUCOBOND® A2 is the only non-combustible aluminium composite panel used in architecture.
It consists of a high mineral filled core (non-combustible) sandwiched between two sheets of aluminium.
Due to its non-combustible core, ALUCOBOND® A2 meets the stringent fire regulations and hugely increases the possibilities when it comes to creative building design.
As with all ALUCOBOND® products, ALUCOBOND® A2 allows for simple processing, is impact-resistant, break-proof, and weatherproof – and above all non-combustible.
When it comes to safety, ALUCOBOND® A2 is ideal for high rise buildings, office complexes, airports, railway and metro projects, shopping malls, hospitals, etc. The superb properties of this material offer an inspiring range of options and solutions for designers – whether your project is a private home, a public building, a corporate headquarters, offices, or a trading or industrial complex. It is also ideal if your organisation wants to create a new image through corporate design – whether it is for petrol stations, car showrooms, banks or supermarkets.
| CHARACTERISTICS | ADVANTAGES |
| --- | --- |
| Low-weight, high rigidity, and perfect flatness | Low cost for substructures and fasteners, and smooth handling on the site |
| Vast variety of colours | Unlimited planning and design |
| Weatherproof | Supplied ready to install |
| Vibration-damping | No additional sound-damping needed |
| Can be easily bent and folded | Simple processing using conventional tools |
| Large panel sizes, fast installation, and prefabricated panels | Short construction times, adherence to schedules, and low cost |
ALUCOBOND® A2 perfectly adapts to the contours of the building – forming complex, flowing elements. It is the combination of formability, flatness, stability, and weather resistance that characterises this material.
Due to its composite structure, ALUCOBOND® A2 can take on many different shapes. Think of it as a separate skin wrapping the building's structure. Its perfect formability does not affect its stability and flatness; the high rigidity of the panel remains.
Lightness meets Rigidity
The composite structure of ALUCOBOND® A2 means it has an impressive strength to weight ratio, no matter if it is a large panel size. Despite its low weight – which makes ALUCOBOND® A2 easy to transport and handle – its rigidity helps maintain its shape and flatness, even when exposed to extreme temperature changes.
Comparison of thickness and weight of panels with equal rigidity

ALUCOBOND® A2 compared with solid aluminium
Required thickness and actual weights of panels with same rigidity
ALUCOBOND® A2
Aluminium
Rigidity (E·J)
Section modulus
Thickness
Weight
Thickness
Weight
1250 kN cm²/m
1.25 cm³/m
3 mm
5.9 kg/m²
2.7 mm
7.3 kg/m²
2400 kN cm²/m
1.75 cm³/m
4 mm
8.3 kg/m²
3.3 mm
8.9 kg/m²
Sustainability
3A Composites is the parent company of ALUCOBOND® and is recognised across the globe as one of the leaders in the field of sustainability. Its reputation is spread far and wide, including among other diversified producers and raw material processing companies around the world.
The company's unflinching commitment to sustainability – along with taking the needs of all key groups into account – enables it to make decisions of the highest economic, social, and ecological value. 3A Composites also commits to continuous self-improvement programs for environmental protection, many of which exceed government regulations.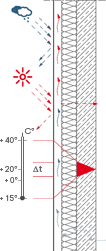 ALUCOBOND® A2 Lifecycle
Over decades of use in a rear-ventilated cladding system, ALUCOBOND® A2 protects a building from weathering and the harmful effects of industrial and environmental pollution. It also acts as a barrier against solar radiation; the ventilated space between the ALUCOBOND® A2 panels and the wall or the thermal insulation reduces heat transmission.
ALUCOBOND® A2 also protects the wall of a building from high and rapid temperature changes; moisture can pass through the wall, yet the building structure remains dry.
During the lifecycle of ALUCOBOND® A2 composite panels, no substances containing CFC are set free at any time. The core material does not contain any nitrogen, chlorin, or sulphur – therefore, it is the perfect choice for projects which require environmental-friendly materials.
The major advantages
Lower maintenance costs
Long-term preservation of the building's structure
During winter there are major savings in heating costs
In summer there are major savings in air-conditioning costs
Reduction of thermal expansion
Reduction in crack formation
Recycling
ALUCOBOND® A2 is fully recyclable. Both the core material and the aluminium cover sheets can be used in the production of new material.
| ALUCOBOND® A2 | Thickness: 3/4mm |
| --- | --- |
| Width (mm) | 1000 | 1250 | 1500 |
| --- | --- | --- | --- |
| Length (mm) | 2000-5000 | 2000-5000 | 2000-5000 |
| Solid Colours | | | |
| Metallic Colours | | | |
| Spectra & Sparkling | | | |
| ALUCOBOND® anodized | | | |
| ALUCOBOND® natural | | | |
| ALUCOBOND® legno | | | |
| ALUCOBOND® vintage | | | |
| ALUCOBOND® urban | | | |
| ALUCOBOND® terra | | | |
| ALUCOBOND® rocca | | | |
| Custom Colours | | | |
Footnotes:
on request
* Anodized according to DIN 17611. All anodized ALUCOBOND® composite panels have contact lines (about 25 mm width) on their short sides. For panel lengths of more than 3500 mm, the composite panels have contact lines (about 2 – 3 mm width) on their long sides. Maximum panel length is 6999 mm. Please take this into consideration when dimensioning the panels.
Properties
Standard
Unit
Values
Panel Thickness
Nominal
[mm]
4
Thickness of coated top skin
Nominal
[mm]
0.5
Width
Nominal
[mm]
1250 / 1500
Weight
Nominal
[kg/m²]
8.3
Technical Properties:
Section Modulus W
ASTM C 393
[cm³/m]
1.75
Rigidity(Poisson's ration u=0.3) E•I
ASTM C 393
[kNcm²/m]
2400
Alloy
ASTM B 209
-
3xxx / 5xxx series
Temper of AL.
ASTM B 209
-
H24
Modulus of Elasticity
ASTM E8
[N/mm²]
70,000
Tensile Strength of Aluminium
ASTM E8
[N/mm²]
Rm ≥ 125
0.2% Proof Stress
ASTM E8
[N/mm²]
Rp0,2 ≥ 90
Elongation
ASTM E8
[%]
A50 ≥ 4
Linear Thermal Expansion
ASTM D 696
-
2,4 mm /m at 100°C temperature difference
Core: Mineral filled polymer
Surface:
-
-
Coil Coating
Lacquering
-
-
Fluoropolymer based (PVDF / FEVE)
Gloss(initial value)
ASTM D 523
[%]
As per colour shade
Pencil Hardness
ASTM D 3363
-
HB – F
Acoustical Properties:
Sound Absorption Factor αs
ASTM C 423
-
0.05
Sound Transmission Rw
ASTM E 90
[dB]
STC: 30
Thermal Properties:
Thermal Resistance R
ASTM C 1363
[m²K/W]
0.009
Temperature Resistance
-
[°C]
-30 to +80
Fire Properties:
Fire Classification
EN 13501-1
-
Class A2, s1, d0
-
NFPA 285
-
Passes
Environment & Health Aspects:
-
-
-
CFC Free
-
-
-
VOC Free
Environment Management System
-
-
ISO 14001:2015
Occupational Health and Safety Management System
-
-
- ISO 9001:2015
Quality Management System
-
-
- ISO 45001:2018
Dimensional Tolerances:
Thickness
-
mm]
4mm ± 0.2 mm
Thickness of coated top skin
-
[mm]
0.5 ± 0.05 mm
Weight
-
[kg/m²]
8.3 ± 5%
Width
-
[mm]
Upto 1500 mm + 4 mm
Length
-
[mm]
< 4000 mm + 6 mm
-
-
-
Above 4000 mm + 10 mm
Specifications are subject to change without prior notice / intimation
Wind load and permissible panel sizes
ALUCOBOND® A2 3 mm
ALUCOBOND® A2 4 mm
The graphs for 3 mm and 4 mm thick ALUCOBOND® A2 indicate the maximum permissible panel length (σ = 53 N/mm²) (without having to add a stiffener) based on applicable design wind load and panel width. Values apply to 4-sides supported panels. Values for other systems on request.