ALUCORE® Clad is a Value-Added Cladding System Solution from ALUCOBOND®. It is made of honeycomb panels prefabricated with aluminium extrusions – meaning they are ready to install.
ALUCORE® Clad is comprised of the following:
Pre-coated Aluminium front skin
Adhesive
Aluminium Honeycomb core
Pre-coated Aluminium back skin and fixing extrusion
Features of ALUCORE® Clad
Unique, as it combines a custom solution with the best available industrial coating and lamination technology
'Ready to install' panels which come with different cladding material configurations (finishes/coating/thickness) to suit individual project requirements
Panel perimeter fixing anchors both panel skins to the supporting structure, thereby giving a better strength to the overall installation
Pre-fixed extrusions ensure an easy and quick installation, whether horizontal or vertical orientation
The fixing system used in ALUCORE® Clad allows for quick panel replacement/removal in different structures, rather than having to take out all the panels
ALUCORE® Clad has all the great features of ALUCORE® – combined with a high quality 'ready to install' system for a perfectly designed building.
| TECHNICAL ITEM | STANDARD | UNIT | Standard T12mm* | Standard T25mm* |
| --- | --- | --- | --- | --- |
SURFACE
Front Cover Sheet**
mm
1
Weight
kg / m2
5.5
6
Alloy
EN 573-3
AA5005A(ALMG1),H42 AA3003, H44
Coil Coating System
Coil Coating
PVDF\HDP\POLY
Gloss (Initial Value)
ECCA T2
%
30-80
Pencil Hardness
ECCA T4
HB-F
CORE
Cell Size
mm
6.3 – 19
Density
kg / mm3
> 50
Thickness of AI Foil
mm
0.076
Bare Compressive Strength
N / mm2
> 2.5
Mechanical PROPERTIES
Modules of Elasticity
EN 1999 1-1
N / mm2
70, 000
Tensile Strength Cover Sheets
EN 485-2
N / mm2
Rm ≥ 125
0.2% Proof Stress
EN 485-2
N / mm2
Rp0.2 ≥ 80
Elongation
%
A50 ≥ 3
Linear Thermal Expansion
EN 1999 1-1
2.4mm/m (at 100℃ temperature difference)
ACOUSTICAL PROPERTIES
Sound Absorption Factor αs
!SO 345
0.05
Sound Insulation Rw
ISO 717-1
EN ISO 6721
dB
15
25
THERMAL PROPERTIES
Thermal Conductivity λ***
DIN 52612
W/mK
1.35
2.7
Thermal Resistance R
DIN 52612
m2K/W
0.0047
0.0093
Heat Transition Coefficient U
DIN 4108
W/m2K
5.65
5.58
Flame spreading in the aluminium surface
BS476, Part 7
Class 1
Surface fire performance
BS1991ADB
Class 0
Specifications are subject to change without prior notice / intimation
Footnotes:
* Based on the specific application, there are different kinds of thickness available, such as 10mm, 15mm, 20mm, etc.
** There are also 0.5mm or 0.7mm available for the front skin according to the specific application.
*** Re.to total thickness, including all layers
ALUCORE® clad solutions comes with 3 different fixing systems to choose from, based on the application and design requirement of a given project. All these solutions can be adapted for a Vertical or Horizontal orientation of panels.
Silicon joint system
Exterior and Interior wall cladding/ roofing
Between 12mm-25mm
Vertical and horizontal installation
Metal cover joint system
Exterior and Interior Wall Cladding/ Roofing
Between 12mm-25mm
Vertical and horizontal installation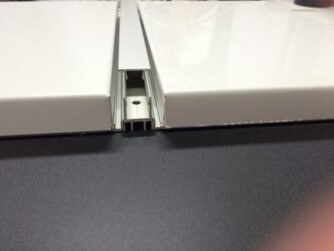 Interior Ceiling System
Interior ceilings
12mm
Vertical and horizontal installation
This fixing system is suitable for both interior and exterior wall cladding applications. As the name suggests, the joints are covered with silicon sealants.
This system is suitable for both exterior and interior wall cladding. The best part about this system is that one can choose the metal strips to either match the surface finish of the Alucore clad or have any other colour of their choice.