The superb structural properties of ALUCOBOND® ECO, together with its aesthetic appeal and durability, open up a wide range of architectural solutions whether your project be a private home, a public building, a corporate headquarters or an office, retail or industrial space. ALUCOBOND® ECO can also help in creating a new, image-enhancing corporate identity for petrol stations, car showrooms, banks or retail stores and food & beverage outlets.
ALUCOBOND® ECO is a lightweight composite material consisting of two 0.3mm thick coil coated aluminium cover sheets and a polyethylene core.
| CHARACTERISTICS | ADVANTAGES |
| --- | --- |
| Low weight, high rigidity, and perfect flatness. | Low cost for substructures and fasteners along with smooth handling on the site. |
| Variety of colours. | Unlimited planning and design. |
| Weatherproof | Supplied and ready to install. |
| Vibration-damping | No additional sound-damping needed. |
| Can easily be folded and bent. | Simple processing using conventional tools. |
| Large panel sizes, fast installation, and prefabricated panels. | Short construction time, adherence to schedules, and low cost. |
ALUCOBOND® ECO offers excellent product properties with extraordinary flatness, a large variety of colours, durability and perfect formability. It has been developed as a rigid and yet, at the same time, flexible facade and cladding material for exterior and interior architectural applications. ALUCOBOND® ECO is extremely weather-proof, impact-resistant, break-proof, vibration-damping, with great ease and speed installation.
Lightness / Rigidity
The composite structure of ALUCOBOND® ECO results in an impressive strength-to-weight ratio, even when comparing large panel sizes. Despite its low weight, which makes ALUCOBOND® ECO easy to transport and handle in the factory and on site, its rigidity and high strength make the panels keep their shape and remain flat, even when exposed to extreme temperature changes.
Sustainability
3A Composites is the parent company of ALUCOBOND® and is recognised across the globe as one of the leaders in the field of sustainability. Its reputation is spread far and wide, including among other diversified producers and raw material processing companies around the world.
The company's unflinching commitment to sustainability – along with taking the needs of all key groups into account – enables it to make decisions of the highest economic, social, and ecological value. 3A Composites also commits to continuous self-improvement programs for environmental protection, many of which exceed government regulations.
ALUCOBOND® ECO Lifecycle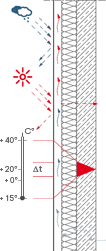 During decades of use in a rear-ventilated cladding system, ALUCOBOND® ECO protects the building from weathering and the harmful effects caused by industrial and environmental pollution.
An external cladding system using ALUCOBOND® ECO acts as a barrier against solar radiation. The ventilated space between the ALUCOBOND® ECO panels and the wall or the thermal insulation reduces heat transmission.
The rear-ventilated cladding system using ALUCOBOND® ECO protects the wall of the building from high and rapid temperature changes. Moisture can pass through the wall. The building structure remains dry.
The major advantages
Low weight and high rigidity
Perfect flatness
Durable high quality surface finish
Wide range of colours and panel lengths
Good vibration and sound absorption
Superb workability
Easy fabrication and installation
Cost effective - low investment cost in fabrication equipment
Recycling
ALUCOBOND® ECO is fully recyclable, i.e. both the core material and the aluminium cover sheets are recycled and can be used in the production of new material.
| ALUCOBOND® ECO | Thickness: 3/4mm |
| --- | --- |
| Width (mm) | 1000 | 1250 | 1500 |
| --- | --- | --- | --- |
| Length (mm) | 2000-5000 | 2000-5000 | 2000-5000 |
| Solid Colours | | | |
| Metallic Colours | | | |
| Custom Colours | | | |
Properties
Standard
Unit
Values
Panel thickness
Nominal
[mm]
3
Thickness of coated top skin
Nominal
[mm]
0.30
Width
Nominal
[mm]
1250
Weight
Nominal
[kg/m²]
3.8
Technical Properties:
Alloy
ASTM B209-04
-
3xxx series
Temper of Cover Sheets
ASTM B209-04
-
H14 / H24
Modulus of Elasticity
ASTM E8
[N/mm²]
70,000
Tensile Strength of Aluminium
ASTM E8
[N/mm²]
Rm ≥ 125
0.2% Proof Stress
ASTM E8
[N/mm²]
Rp0.2 ≥ 90
Elongation
ASTM E8
[%]
A50 ≥ 3
Linear Thermal Expansion
ASTM D 696
-
2.4 mm / m at 100°C temperature difference
Core:
Polyethylene, Type LDPE
Virgin
[g/cm³]
0.92
Surface
Coil Coating
Lacquering
-
-
Fluoropolymer based (PVDF/FEVE)
Gloss ( initial value )
ASTM D 523
[%]
As per colour shade
Pencil Hardness
ASTM D 3363
-
HB - F
Thermal Properties:
Temperature Range
-
[°C]
-30 to +80
Environment & Health Aspects:
Environment Management System
-
-
- ISO 14001:2015
Occupational Health and Safety Management System
-
-
- ISO 45001:2018
Quality Management System
-
-
- ISO 9001:2015
Dimensional Tolerances:
Panel thickness
-
[mm]
3 mm ± 0.2 mm
Thickness of coated top skin
-
[mm]
0.30 ± 0.02 mm
Weight
-
[kg/m²]
3.8 ± 5%
Width
-
[mm]
Upto 1500 mm + 2mm
Length
-
[mm]
4000 mm + 6 mm
-
-
-
Above 4000 mm + 10 mm
Specifications are subject to change without prior notice / intimation